| | | |
| --- | --- | --- |
| Become a part of our success-story | | |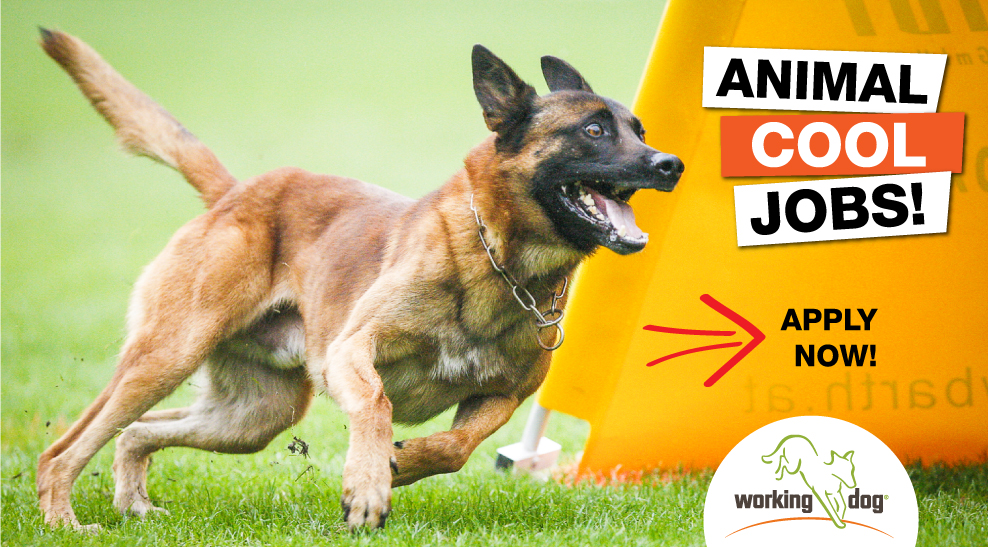 Contact
Dögel GmbH
Geltestraße 9
06184 Kabelsketal OT Dölbau
Duitsland
Contact Person:
Nicole Heinicke
E-Mail: bewerbung@doegel.de
Telephone: +49-34602-9991-85

Videographers in secondary activity (m/v)
Area of practice
Footage of dog sport championships in Germany
Filming with fixed rules
Special requirements
Resilience and goal-oriented work
A photographic sense
Safe handling of the video camera
Driving license
Flexibility on the weekends
We offer
Varied activities
Familiarization phase
A nice team in a friendly work atmosphere

Webdeveloper (m/v)
Area of Practice
Creation and maintenance of Websites and Applications with HTML, CSS, PHP, JavaScript, Typo3 or other CMS
Development of frontend and backend
Supporting the conception
Creation and execution of automated tests using Selenium, PHP Unit and others
Analysis and documentation within the development team
Support for the development of the test infrastructure, the QA processes and standards in team
Special requirements
College degree in computer science with at least one to two years of work experience or equivalent
Good knowledge and practical experience in PHP, MySQL, JavaScript, CSS, HTML, XML
In-depth knowledge of object-oriented programming, very good MySQL server knowledge
Linux skills are an advantage
Structured, independent worker, quick learner and a high degree of initiative
Good analytical and communication skills
Good german and english knowledge, spoken and written
We offer
A nice team in a friendly work atmosphere
Interesting training opportunities
Active Breaks

SEO Manager (m/v)
Area of Practice
Develop and implement concepts for long term SEO strategies for the websites working-dog.com, doegel.de, evalaze.de and caniva.de
Adjust and optimize the page content
Creating landing pages (SEO writing style)
Establishment and development of the internal link structure
Finding suitable keywords for optimization
Increase visibility in search engines
Links to other sites (backlinks)
Link partnerships, link exchange, link texts
Analysis and monitoring of the website
Adaptation of the application to new situations by search engines
Special requirements
Expertise to technically adept Whitehat SEO optimization
Experience in dealing with Google Analytics and Google Webmaster Tools
Great interest in learning and testing new SEO trends
Strong interest and expertise in online marketing
Theoretical and practical knowledge in the field of SEO
Dealing with popular keyword research and analysis tools
Constant monitoring of search mechanisms of the search engine and user behavior
We offer
A friendly work atmosphere
Interesting training opportunities
Active breaks

Mobile Developer (m/v)
Area of Practice
New and further development of software solutions in the area of mobile applications for the iPhone and Android platforms in the context of customer projects
Support and independent development of the conception and specification of requirements for mobile applications, also in conjunction with backend functions such as REST interfaces
Planning, cost estimation, project communication
Creation of test scenarios and ensure product quality
Special requirements
At least two years experience with prior training
Very good knowledge of objective-C, cocoa touch applications, iOS SDK and app StoreSubmission process or equivalent knowledge in Java and Android SDK / NDK
Extensive experience in the development of mobile applications under iOS or Android
Extensive experience with Web technologies (JavaScript, HTML, XML, etc.) in particular Web services (REST, SOAP)
Good theoretical and practical knowledge in software engineering, in particular in DesignPattern and OOA and OOD
Interest in technical issues and modern mobile technologies
Usability affinity
Structured, independent way of working, quick thinking and a high degree of initiative, precision and care
Teamwork, dedication, willingness to accept responsibility, resilience, and flexibility
Familiarity with continuous integration in the mobile environment
Good german and english knowledge, spoken and written
We offer
A friendly work atmosphere
Interesting training opportunities
Active breaks

Freier Redakteur für den Hundesport (m/w)
Tätigkeitsschwerpunkte
Themenfindung und Themenkonzeption für die Bereiche Agility, Mondioring, Obedience, Fährtenhund und alle anderen Hundesportarten
Recherche und Führen von Interviews
Verfassen von redaktionellen Texten und Presseberichten
Veranstaltungsbegleitende Hintergrundrecherchen
Fotorecherchen
Besondere Anforderungen
Du verfügst über vorzugsweise praktische Erfahrungen in einer der genannten Hundeportarten
Grundwissen im kynologischen Bereich (Zucht, Verhalten, etc.) und/oder der Genetik sind von Vorteil
Du liest dich schnell in verschiedenste Themen ein, kannst dich präzise ausdrücken und es fällt dir leicht, komplexe Sachverhalte auf den Punkt zu bringen
Kommunikationsstärke, Kreativität und innovative Ideen runden dein Profil ab
Wir bieten
Eine verantwortungsvolle Aufgabe in einem motivierten und hundesportfaszinierten Team
Von der ersten Ausgabe des neuen Magazins an dabei sein

Sales manager (m/v)
Area of Practice
Construction and management of a sales team
Development and implementation of a sponsorship concept
Build of strategic distribution partnerships and indirect sales cooperations
Important goal achievement measures and utilisation of yield potential
Revenue and budget responsibility for your Department
Ready for field service activities abroad
Special requirements
Successfully completed commercial apprenticeship or business degree with several years of professional leadership experience
Very good handling of the MS Office package
Very good german and english knowledge, spoken and written
Sovereign and friendly appearance
Independent and structured way of working
Strong team and communication skills
We offer
A friendly work atmosphere
Interesting training opportunities
Teamevents

Audio-visual media designer (m/f)
Area of Practice
Support of our multimedia department in daily businesses
Creating screen designs for websites
Creating and editing of graphics
Postprocessing of images and sounds using graphic elements, writings, animations, effects, noises and music
Maintain media technology devices and facilities and ensure those preparedness
Special requirements
Good computer skills
Experience in handling of Adobe Creative Suite and Premiere are necessary
Experience in premiere after effects are desirable
Serious interest, flexibility and resilience
Sense of visualizations and creativity
Driver license required
We offer
A friendly work atmosphere
Interesting training opportunities
Teamevents

Projektmanager Hundeschauen (m/w)
Tätigkeitsschwerpunkte
Projektmanagement im Bereich der Hundeschauen / Ausstellungen
Kontaktaufbau mit Ausstellungsausrichtern
Vereinbarung von Sponsorings und Kooperationen
Generierung von Partnerschaften zwischen working-dog und Austellern
Inhaltliche Aufwertung des Segment Ausstellungswesen auf working-dog
Unterstützung der Entwickler um Ausstellungen sinnvoll und umfangreich auf working-dog darzustellen
Besondere Anforderungen
Fundierte Kenntnisse im Ausstellungswesen
Vorhandenes Netzwerk zu Veranstaltern, Teilnehmer und Richter im Segment der Hundeausstellungen
Gute Kenntnisse über Verbandsstrukturen
Strukturierte, selbstständige Arbeitsweise, schnelle Auffassungsgabe und ein hohes Maß an Eigeninitiative
Gute EDV Kenntnisse, solider Umgang mit Office Produkten
Gute analytische und kommunikative Fähigkeiten
Gute Deutsch- und Englischkenntnisse in Wort und Schrift
Wir bieten
Eine Vollzeitstelle
Die Mitarbeit in einem engagierten jungen Experten-Team
Regelmäßige interne und externe Schulungen
Flexible Arbeitszeiten
Regelmäßige Teamevents für die Stärkung des Wir-Gefühls

Accountmanager (m/v)
Area of practice
Supervision and coordination of transversal projects
Project organization of film inserts for the multimedia Department at home and abroad
Sponsor support and their acquisition
Ready for field service activities abroad
Support of the construction and expansion of customer relationships
Participation in strategic sales and budget planning
Creation of market and competition analysis
Support the Sales Manager
Special requirements
Successfully completed commercial apprenticeship with professional experience
Very good handling with the MS Office package
Good English, spoken and written
Sovereign and friendly appearance
Independent and structured way of working
Strong team and communication skills
We offer
Friendly working atmosphere
Interesting continuing education
Teamevents

Product / Account Manager (m/v)
Area of practice
Support for existing customers and acquiring new business partners
Calculation of offers
Positive development of sales
Delivery of information to market strategies and sales concepts
Functie-eisen
Goede sales en marketing skills.
Uitgebreide ervaring in online-business en hoge affiniteit met IT.
Ervaring met sales van Web 2.0-solutions is een pré.
Ervaring met CRM-Systemen.
Uitstekende kennis van Duitse en Engelse taal in woord en geschrift.
Goed analytische en communicatievaardigheden.
Een gestructureerde, zelfstandige werkhouding.
Snelle leerling met veel eigen initiatief.
Zelfverzekerd, sympathiek en professioneel optreden.
Wij bieden
Prettige werksfeer
Interessante opleidingsmogelijkheden
Aktieve Pauzes

Partner Manager Franchise (m/v)
Area of practice
Supervision and coordination of the global working-dog Partner
Personal responsibility for further development of the partner network
Project management support in daily business
Conducting research, analyzes, statistics and analysis
Field work in an international environment
Special requirements
Professional experience in the partner support would be desirable
Safe use of social media
Market knowledge in the dog industry
Very good English, spoken and written
Strong customer service orientation, initiative
Flexibility, teamwork, mobility of use, assertiveness
Strategic thinking
We offer
Friendly working atmosphere
Interesting continuing education
Active Breaks
Neem contact met ons op voor meer informatie.