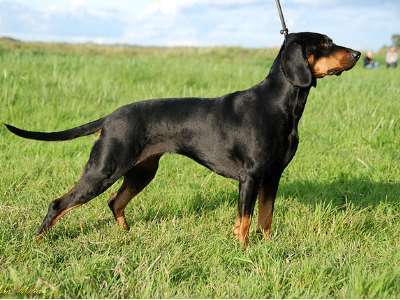 The Gonczy Polski or Polish Scentound is a relative of the Ogar Polski and belongs to the scenthounds.
Since 2010 he has been among the provisional breeds of FCI.
Jozef Pawuslewicz wrote the first standard and earned the recognition of the breed.
The first mention is made in 1819.

Appearance
Females are 50-55cm tall, males 55-59cm.It has close-fitting, short fur in various colors of reddish, brown with tan to black with tan.
Breed Uses
The Gonczy Polski is mainly used for hunting boar and deer, sometimes for hunting hares and foxes.
It is a soft, stable dog, but also courageous and suitable as guard dog. He is reserved for strangers.

Er zijn op dit moment geen honden van dit ras.
lees verder
Er zijn geen nesten bekend van dit ras.